Canadian ghostwriters and website promotion service
If you have something to write or something to promote, we can help.
We do two things very well. We write and we promote online. Our team from across Canada and the USA is at your service. Which of these services do you need?
Writing and ghostwriting
Our team of professional Canadian ghostwriters can write almost anything. Here are some of our more popular services:
About our team of writers and ghostwriters
Website promotion and content marketing
Our team of online promoters helps small Canadian businesses build their online presence. Here are some of our more popular services:
Translation
Our team of translators helps Canadians reach global audiences. Here are the languages we work in:
Other languages, such as German
Hit the red button for a free quote today.
We are:
Focused on quality above all
Professional in everything we do
Friendly, flexible and easy to work with
"You did such a great job of capturing the story."
"The article flows like a symphony."
"THANK YOU DAVID !!! Exactly how I wanted it to flow."
"Awesome! Thanks for the rewrite, its perfect."
"Oh wow, I am crying. It is beautiful."
I REALLY like how you write!!!
Hire a ghostwriter
Tap or click to read more about hiring professional writer or ghostwriter.

Our office is in Ontario, but our professional writers come from across Canada and the United States. We have a solid team of ghostwriters who can handle almost any project. Tell us what you need written, and we'll assign the writer who can do the very best job. Geography is no object; quality is our top focus.

If you have a book in you, we can bring it out. We get more requests each year to write books than for any other type of writing. We do fiction, biography, editing, motivational, Christian, finance, business, self-help and many more genres. Our freelance writers can write for the Canadian market, the US market or the UK market – depending on who your target market is or where you want to sell your book.

Most of our writers are multifaceted, excelling in numerous styles and genres. They are interested in a wide variety of topics. Others specialize in proofreading and copy editing. While many of our writers are nearby in the Ottawa-Montreal-Toronto corridor, we also have superb writers in western Canada and the United States.

Our team includes:

Business writers who can deliver annual reports, white papers and financial documents
Marketing writers who can make your ideas sell
Biography writers who can capture your story
Article-writers and SEO writers who can promote your website
Fiction writers who can spin a silver tale
Many more genres and styles

To hire a ghostwriter, hit the red button for a free quote today.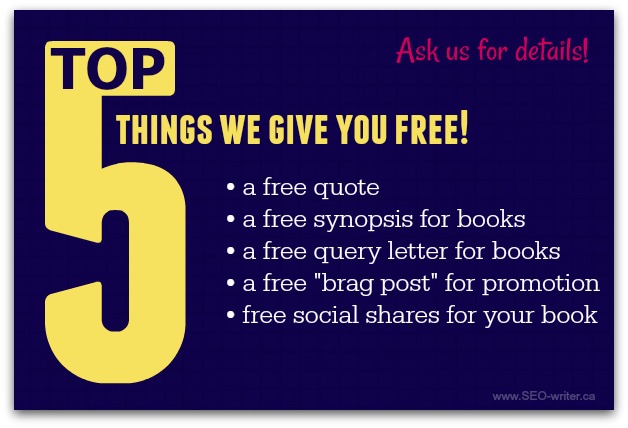 Hire a website promoter
Tap or click to read more about how to promote your website.

We can help you with SEO and with social media marketing.

How our SEO consultants can help you

Buyers across Canada and around the world are searching for your products right now. An effective and professional search engine marketing campaign can deliver them, and we can help…starting with building your website.

SEO, short for "search engine optimization", is the process of placing your website near the top of search engine rankings for searches that your target market are making.

In many ways, SEO is more like a sport than like science, both because the rules keep changing and because success is a factor of what both you and your competitors are doing. There can be no guarantee, but a good educated estimate based on experience and solid, professional tactics, can give you the edge over your competitors.

Our methods are very simple. We focus on quality. Your long-term success depends on three things:

The quality of your website, which is about technical factors that your visitors don't see
The quality of your content, which is about what visitors see on your website
The quality of your neighbourhood, which is about who you link to and who links back

Based in eastern Ontario, between Ottawa, Montreal and Cornwall, The Happy Guy Marketing are strategic SEO consultants, rather than just technical SEO operators. We do SEO writing and content creation. We work exclusively with small businesses, giving our clients here in Canada a superior success rate and a healthy return on investment. We can boost your website in English, French, bilingual or through multilingual SEO services

.

Our goal is always to deliver more than merely good search engine rankings. Search engine marketing is the process of helping you move potential buyers onto your site and through your site. We take the time to understand your company and your customer base and partner with you to move them through their entire search process.

How our social media marketing consultants can help you

There are two ways to use social media to boost your business: as a broadcast tool and as a relationship tool.

As a broadcast tool, we can help you reach new audiences and new markets. There are three main things we can do:

We can help you develop a social media broadcast strategy.
We can help you grow your social media following.
We can help you spread your content to larger audiences.

As a relationship tool, we can help you develop your strategy. However, implementation is up to you. One thing nobody can delegate is relationships.

Whatever help you need, we can help identify the right social media platform for you – whether that might be Facebook, Twitter, YouTube, Instagram or Pinterest – and identify what parts can be automated. We can help you develop the content and a schedule. And we can handle the broadcast aspect for you, if you wish.

To hire a website promoter, fill in this form for a free quote today.
Hire a translator
Tap or click to read more about professional translation services.

Our network includes several French language translators who specialize in translation, and localization in both languages. Let us know if you want Canadian French or European French.

We also have a team of Spanish language translators for companies selling to the US and Latin American markets. Through our partners, we provide the same level of service in German, Italian and other Roman-alphabet languages.

If you have a book, website or marketing materials that you want to be bilingual or multilingual, we can help. We can write the English, French and Spanish versions for you.

To hire a French-language translator or a Spanish-language translator, hit the red button for a free quote today.
Get your project started today!
The top reason Canadians come to The Happy Guy marketing is to get started. People don't have time to write their book or speech or screenplay or article or SEO writing. They don't have time to develop a website marketing plan, nor to implement it. You can start now – just fill in this form. We'll give you a free quote or get back to you with questions.


ASIM: Servant of Two Masters, by D.W. Smith
HISTORICAL FICTION: In 1453 Turkey, Mehmed the Conqueror has just defeated the Byzantine Empire and a new era called the Ottoman Empire is ushered in.
Breast Cancer; The Sun Will Rise, by Pamela S. Barron
SELF HELP: Breast cancer survivor Pamela Barron describes life with metastatic breast cancer and continuous chemo treatment for seven years .
War of the Staffs, by Kathryn Tedrick and H.P. Stephenson
FANTASY: A fresh new series for all those who love dragons, wizards, elves, dwarves, and mayhem.
Amazing Adventures of a Nobody, by Leon Logothetis
MEMOIR: A personal tale of travel and adventure in the real world.
Sit Crooked and Speak Straight, by Stephane J. McGrane
BUSINESS: A primer for anyone wanting to conduct buisiness susccessfully in the Arabian Penninsula.
The High-tech Gooseneck Putter, by Samuel DiMatteo & Kristin Johnson
CHILDREN: Meet Sami DeMani, a Canada gander with a legendary golf game. He's on track to win the prestigious Waterfowl Tour — and put his nemesis, the ruthless Pete Swan Lake, in his place once and for all.
The Biracial Bondage, by Joe Bama
SOCIETY: Exploring the struggle of biracial people and couples, as seen through the eyes of both white and black people.
Eradonis: Legend of the Black Rose, by Narisha Rajnandan
FANTASY: First in a series of books featuring sorcery and magic spells.
My Life With an Unsung Hero, by Vesta Sithole
BIOGRAPHY: The post-humus biography of the Reverend Ndabaningi Sithole, a hero of the Zimbabwean struggle for independence.
The Genesis One Code, by Daniel Friedmann
SCIENCE, RELIGION: Calculations demonstrate a clear alignment between the times of key events described in the creation narrative in the Book of Genesis with those derived from scientific theory and observation.
Time Craft, by Mark A. Ely
SCIENCE FICTION: A time-travel story of adventure and scientific imagination.
He will guide you, by Dr. John Diomede
RELIGION: A guide for Christians to your relationship with the Holy Spirit.
Flying Cowboys and Confetti Rain: Dreams of a PBR Bull, by Debbie Felkins Tamez
CHILDREN: An endearing story of a bull and a racoon and their adventures on the road to fame.