Hi. My name is David Leonhardt in Ontario. I run THGM Writing Services with a dedicated team of professional ghostwriters at your service. We'll deliver the screenplay or script you want on time and on budget.
We have Canadian ghostwriters and American ghostwriters on our team. We assign the writer who best matches your needs.
Fill in and send us the yellow form on this page for a free quote.
Whether your audience is in Canada, in the United States or on another continent, our ghostwriters will give your story life. We can write your:
screenplay
video script
movie script
TV series script
stage play script
animated film script
The sooner you fill in the form on this page, the sooner we can send you a free quote.

Bill – screenplay developer

Hey Kristen, What more can I say…You hit it on the nose of what I was thinking. Thank you. And the 36 pages…All I can say is you write what I am thinking and I'm still blown away. I'm so glad I went with you and THGM. Thank you for fulfilling my vision on my screenplay. You see what I want to be seen to others. Thanks.

5 stars – 1 reviews
Five reasons to hire a screenplay ghostwriter
Hire a ghostwriter to start sooner and finish quicker.
Hire a ghostwriter to format your screenplay properly.
Hire a ghostwriter to structure your screenplay properly.
Hire a ghostwriter to ensure the plot moves at the right pace.
Hire a ghostwriter for a better quality manuscript, with a better chance of selling.
Five reasons to hire our screenplay writers
Our team is ready to start now.
Our writers treat you like royalty.
You get personal service and custom work.
Guess why we're called "The Happy Guy" Marketing?
Our ghostwriters are among the top quality writers in Canada and North America.
To get started, fill in this form for a free quote now.
Five reasons to hire a professional screenwriter
You're not on your own writing your script. You have professional help.
If something isn't working, we can step in to help (that rarely happens).
If something bad happens to your screenwriter, another writer can jump in.
Our standard contracts protect your copyright and ensure the work gets done.
We've approved each of our writers. They can't change the rules part-way-through your project.
Five reasons to hire a Canadian script writer
We Canadians are friendly.
Entertainment is in our blood.
We know Canada…but we also know the USA, the biggest film market.
Geography doesn't matter. We assign the writer best able to deliver a superb script.
We can spell in both US and UK English (and in Canadian English, of course). New York, London or Toronto, your script will be ready for the stage or screen.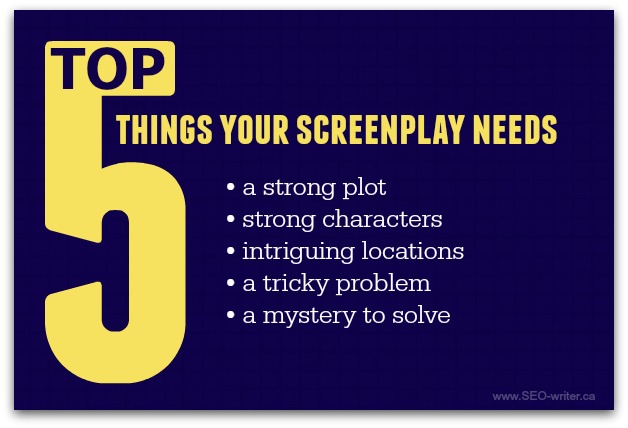 Five things your screenplay needs to be successful
A strong plot – this is a story, after all.
Strong characters – including at least one protagonist and one antagonist.
Intriguing locations – places that take viewers on a trip.
A problem – something that seems almost impossible to overcome.
A mystery – something to keep people anticipating or wondering.
Five tips to work with a movie ghostwriter
Pay on time to keep the work flowing.
Use "track changes" to give the script writer feedback.
Be friendly. Canadian ghostwriters are friendly, and so are our American writers.
Give as much detail as possible. The screenplay will be based on the information you provide.
Give feedback as quickly as possible. The screenplay will be seamless if the interruptions in writing are minimal.
Five steps to writing a screenplay
Logline – summary of the idea, no more than a sentence or two
Treatment – a synopsis of the movie or play
Outline – a step by step structure of the script
Draft – this is what we write for you
Edit – we also edit the script before signing off on it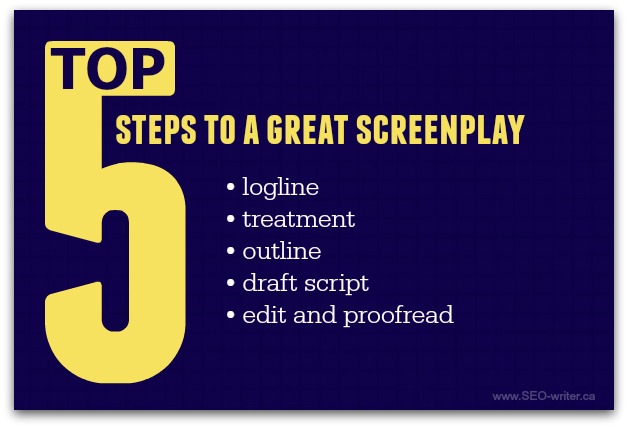 For the best service, fill in the the form on this page and get a free quote now.
Five things you should know about ghostwriter contracts
The single most important part of the ghostwriter contract is assigning you copyright.
Also important is the price you will pay, as well as any extras you might decide at a later point to include.
Your payment schedule is also important.
A ghostwriter contract sets the number of words, as well as the length of time it should take if you provide timely feedback along the way.
A ghostwriter contract spells out any other special requirements you might request.
Five ways you can pay for ghostwriting services
Pay for writing up-front. We ask clients to pay this way for small projects, such as a script for an animated short film or a mini documentary.
Pay in three instalments. We ask clients to pay this way for large projects, such as a feature length screenplay.
Pay in multiple instalments. This is how cash-strapped clients pay for large projects. We don't turn anybody away based on cash flow. We simply make the work flow follow the cash flow.
Pay by sending us a certified cheque or money order, or by PayPal.
For Canadian clients only: pay by email Interac, in $1,000 increments.
Five steps to find a screenwriter
The best way to find a screenplay writer is to complete and send us the form on this page.
Tell us about your project, so we can assign the right writer to discuss it further with you .
Let us know about any sensitive or controversial aspects (adult, violence, politics, religion, etc.) before we assign a writer.
Discuss the project with the assigned ghostwriter. You need to be comfortable with the writing she will do and with how the two of you will work together.
Sign the contract. Congratulations, you have found a screenplay ghostwriter.
Tap or click to read about some of our Canadian ghostwriting projects.

Coming soon…
Start writing your screenplay today!
The single biggest reason most people seek our help is because they don't have time to write their screenplay. Fill in this form and send it to us. We'll give you a free quote and put you in direct contact with one of our top ghostwriters.
Looking for a specific ghostwriting service?
Find screenwriters for hire
We have experienced screenwriters for you. If you are looking for a quality writer at a reasonable price for your movie screenplay, TV series or stage play script, fill in the yellow form on this page for a free quote. The more details you share, the better.