Looking for a wedding speech writer? Our dedicated team of professional speech ghostwriters is at your service. We'll deliver your custom wedding speech, specific for you and your occasion.
Our pens are loaded! How can we serve you
Our Canadian speechwriters have years of experience for your speech. Whatever tone you want to strike, whatever your role at the wedding, our speechwriters can deliver.
Fill in and send us the yellow form on this page for a free quote.
We have written the following wedding speeches for our customers:
best man speeches
maid-of-honour speeches
father-of-the-bride speeches
mother-of-the-bride speeches
mother-of-the-groom speeches
father-of-the-groom speeches
The most important skill a ghost writer can offer is the ability to write words that sound like they come from your mouth. If chameleons could write, they would be ideal ghost writers, changing their writing style with their clients.
Whether the guests are Canadian or come from around the world, our ghostwriters will bring your message to life with all the sincerity and humour you want.
Fill in and send us this form for a free quote.
Here's what some people have said about our wedding speech writing service:

Rene – father-of-the-groom from Quebec


Well I have to thank you again and the speech was fantastic. As you can imagine the flow was great and must admit I did a pretty good job delivering our speech. I had it pretty well memorized so it did enable me to add in little events which made the audience chuckle. Both Kuno and his fiancée were very delighted and touched by the words.
I'm very happy that I decided to go with a "writer" service and very happy that you wrote the words.

5 stars – 1 reviews
More people are afraid of public speaking than are afraid of dying. But when someone close to you gets married, you might have to say a few words. No problem – we can craft those words for you. With a carefully crafted speech, you can proceed to deliver it with confidence.
Fill in the the form on this page for a free quote. We'll get right back to you
Five reasons to hire a speech ghostwriter
Hire a speech ghostwriter to get started.
Hire a speech ghostwriter to sound more confident.
Hire a speech ghostwriter for a to be ready on time.
Hire a speech ghostwriter for an outside perspective.
Hire a speech ghostwriter to entertain your audience.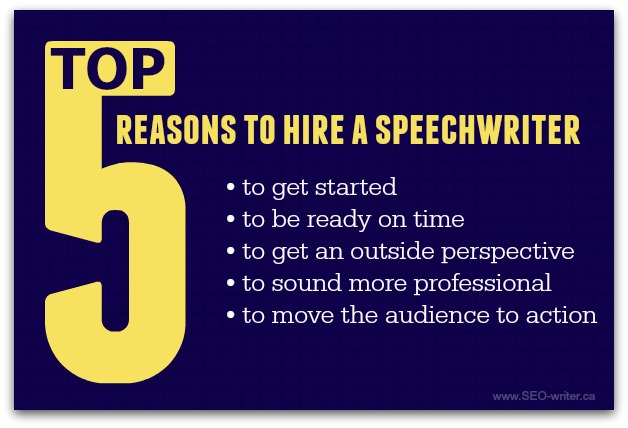 Five reasons to hire our wedding speechwriters
We have the flexibility to meet your needs.
We choose all our writers for quality writing.
We choose all our writers for customer service.
Every word we write is custom work. No canned best man speeches.
"The Happy Guy" Marketing is in the business of making customers like you happy.
To speak with confidence, fill in the form on this page for a free quote now.

Geoff – groom from British Columbia

I am really pleased with how this speech is going and have been reviewing it with my brother. There are some very small changes I am going to make and then I will send it back to you for a final review. I'm very please with many of the subtle jokes you made.

5 stars – 1 reviews
Five reasons to hire a ghostwriting agency for your next speech
If something isn't working, we can step in to help.
If your writer gets sidelined, another writer can jump in.
We are happy to tweak the text based on your feedback.
We vet all our writers. They do good work and have strong ethics.
You won't be on your own writing your speech. You have professional help.
Five reasons to hire a Canadian speechwriter
You are Canadian. So are we.
We've actually been to Canadian weddings.
Canadians engage with their audiences.
We also understand the global nature of families in the 21st century.
If you'll be speaking at a wedding in the USA or elsewhere, we can write for those audiences, too.
Five tips to work with a speechwriter
The more details you give, the more the speech will sound like you.
If you want something tweaked, explain why.
Make sure your ghostwriter understands your relationship to the bride or groom.
Practice the speech out loud in front of a mirror before asking for changes
Be friendly. All our writers are friendly, so you can work well together.
Five questions your ghostwriter will ask you
How do you know the groom (or bride)?
How well do you know the groom's family (or the bride's family)?
How well do you know the bride (or groom)? Her (or his) family?
Are there other people you really should mention in the speech?
What personal anecdotes that you really want to mention?
Five more questions your speechwriter will ask you
How is the groom's (or bride's) life about to change?
Are there any cultural or family sensitivities you should avoid?
What personal advice do you wish to share with the couple?
What is your comfort level with humour? What style of humour?
Anything else your speechwriter should know?
Fill in this form for a free quote now.

Aaron – Best Man

Thanks for helping to organize my thoughts and put them on paper. … Thanks again for all your help. While I had an idea for what I wanted to express, your help in getting it structured was a big help.

5 stars – 1 reviews
Five ways to pay for speechwriting services
Canadian dollars.
US dollars – we accept the greenback.
PayPal is quick and easy.
Certified cheque or money orders.
Email Interac is great for us Canadians.
Five steps to find a ghostwriter for a best man speech or a maid-of-honour speech
The best way to find a speechwriter is to contact us. Please fill in the yellow form on this page.
Tell us a little about your speech, so we can assign the writer able to do the best work for you .
Let us know about any sensitivities that some guests might have or anything that might make a writer sensitive.
Discuss your speech with the assigned ghostwriter. Make sure you are comfortable with the writer before we start.
Send your payment. Congratulations, you have found a writer for your wedding speech.
Here's what Canadian wedding professionals say about us

I'm impressed with the quality of the speeches you write. Creative, lively and definitely not canned.

Your wedding speeches hit the high notes. They are memorable in all the right ways!


Get your wedding speech started today!
The top reason people come to us is to get started. The best man or maid of honour doesn't always know where to start or how to start. But you can start now, by contacting us. Just fill in the form on this page. We'll give you a free quote and, if you wish to proceed, assign a ghostwriter.
Looking for a specific ghostwriting service?
Find speech ghostwriters for hire
We make finding a speech ghostwriter easy. If you want a skilled ghost writer for your speech, fill in this form for a free quote. The more details you include, the better we can serve you.