Hi. My name is David Leonhardt, and I run THGM Writing Services. Our team of professional copy editors is ready to finalize your book, article blog post or report. We'll deliver your improved manuscript on time and on budget.
Our Canadian editors and American editors will make sure that your text is ready for your audience in Canada, in the USA or internationally.
Send us the yellow form on this page for a quick and free quote.
Copy editing is like first aid for your documents. They are in pretty good shape, but need just a little help to put them in top shape. We can do a full copy edit or just proofreading.
What copy editing includes:
spelling
grammar
punctuation
capitalization
clarity of language
consistency of language
What proofreading includes:
spelling
grammar
punctuation
capitalization
But we can do much more. We can check facts. We can restructure the manuscript or sections of it, if you wish. We can enhance descriptions or dialogue. These are not part of "copy editing", but your manuscript might need more. Let us know what your text needs, and we'll do it for you.
If you are not sure what your manuscript needs, we can do a high-level review. We deliver a couple pages of recommendations.
What high-level recommendations include:
the plot
characters
descriptions
passages where specific improvements could be made
other recommendations the editor offers
For a free quote, send us your details in the form on this page.

Daniel Hughes, safety expert


David I really like this and my writing style was not lost with your editing and assistance. It still reads like I wrote the story.


Maya – novelist


Oh wow, I am crying. It is beautiful. And I am not just saying that because it is my book and all. It flows smoothly. I am pleased. I am confident I will land a contract with that. Now I feel confident. I didn't feel that confidence before with my manuscript. Being a writer, I know that my manuscript didn't have the smoothness I was aiming for. Thanks so much.

5 stars – 2 reviews
Five reasons to hire a professional editor
Hire a copy editor to be publish-ready.
Hire a copy editor for a fresh set of eyes.
Hire a copy editor to catch what you missed.
Hire a copy editor for accuracy and consistency.
Hire a copy editor to avoid looking like an amateur.
Consistency is important. You'll look like an amateur if your style, tone or vocabulary are inconsistent. For instance, if you use US spellings, such as "center" and "neighborhood" in your manuscript, you don't want to suddenly insert Canadian spellings, such as "centre" or "neighbourhood". And if your protagonist is a" recruiter" in some sections, you don't want her to suddenly become a "head hunter". If you mention a "car" in some places and call it an automobile" in others, you will want to pick one word and stick to it. And let's face it, if you want to sell your book south of the border, nobody will know what a "Newfie" is, nor the significance of "Meech Lake".
Five reasons to hire our copy editors
Our copy editors are skilled – they know their English.
Our copy editors treat you like a king or queen ( or prince or princess, your choice).
Our copy editors are meticulous – they hunt down errors that you might have missed.
We are called The Happy Guy Marketing. Our specialty is making people like you happy.
We care. If your document needs more than a copy edit, we'll stop and let you know.
If your documents need help, fill in the form on this page to get a free quote now.

Alan, Karma Kisses Tea House

We would like to say we think you did a wonderful job. The content flows really well and reads a lot smoother and more professional now. Thank you very much.

5 stars – 1 reviews
Five reasons to hire a freelance editing agency
All our copy editors are proven and safe.
You get a pro to help you. You are not an isolated writer.
We are your team. We have a choice of editors to assign to you.
We let the editor do his job…but we step in if anything needs troubleshooting.
If your editor gets sick or has an emergency, we have back-up editors to jump in for you.
Are you curious how many people seek help editing their books, reports and screenplays? This chart shows what help Canadians want from us. As you can see, plenty of people just like you want their manuscripts edited.
Five reasons to hire a Canadian copy editing agency
We know Canadian English.
We also know US and UK English.
Typically Canadian, we are nice and polite.
Like you, we are hard-working and conscientious.
We have Canadian editors…but we also have American editors.
Five tips to work with our copy editors
Tell us your word count.
Pay for copy editing.
Let us know if there are any exceptions that you want preserved.
Review the edits that we send in "track changes".
Accept whichever edits you want; reject whichever edits you don't. It's your manuscript and you are still the boss.
Exceptions can be important. Sometimes correct grammar or spelling sometimes includes slang or dialect, especially in dialogue. Let us know of any "errors" that were made on purpose – the ones you do not want "corrected". We want to respect the tone you are trying to set.
To find an editor today, fill in the yellow form on this page.

Timona Ross, novelist


I read the query letter and bawled like a baby; you did such a great job of capturing the story and my feelings towards the intended audience. The edits (for the chapters) are refreshing. I notice the improvements with the transitions of thoughts and scenes.


Gabriel Sinki – Christian author


I can't thank you enough for the excellent job you did. The article flows like a symphony… Of all the editors that did help me out – in my other publications – you are the best. I am very happy that I found you. and grateful for David that he recommended you. I will now submit the article for publication and if accepted I will hand you the book for your editing.

5 stars – 2 reviews
Five things you should know about the cost of editing
We don't compete on price. We compete on quality. We charge what it takes to deliver quality, without paying celebrity prices.
Editing is a labor intensive job. It costs money.
The longer the manuscript, the more it costs.
Ours editors are just as good as celebrity writers, but you don't pay extra for their celebrity status.
There are cheaper editors on the Internet. But if price is your top consideration, why even hire an editor?
Our standard copyediting price includes:

spelling
grammar
punctuation
capitalization
clarity of language
consistency of language
service with a smile
Tap or click to read about some of our Canadian editing projects.

Coming soon…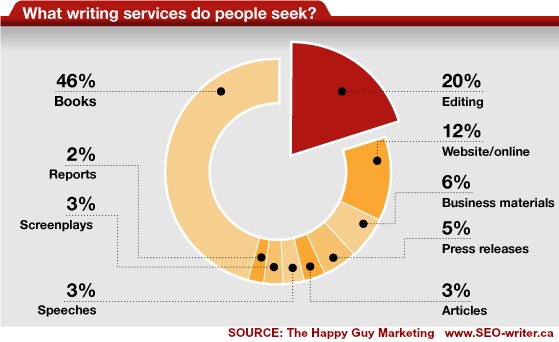 We'll make you look spectacular!
The top reason people ask us to edit their documents is to look good. Their story is great. Their information is solid. Their ideas are clever. But their writing could be better.
Once we have finished with your manuscript, your writing will be better.
Nothing says "amateur" like:
misspellings
poor grammar
disconnects in your text

Fortunately, it is easy to head off instant failure before it happens by hiring a professional manuscript editor or proof reader. Let us know today how we can help you.

Looking for a different writing service?

Just a few sample books we've written or edited

ASIM: Servant of Two Masters, by D.W. Smith
HISTORICAL FICTION: In 1453 Turkey, Mehmed the Conqueror has just defeated the Byzantine Empire and a new era called the Ottoman Empire is ushered in.
Breast Cancer; The Sun Will Rise, by Pamela S. Barron
SELF HELP: Breast cancer survivor Pamela Barron describes life with metastatic breast cancer and continuous chemo treatment for seven years .
War of the Staffs, by Kathryn Tedrick and H.P. Stephenson
FANTASY: A fresh new series for all those who love dragons, wizards, elves, dwarves, and mayhem.
Amazing Adventures of a Nobody, by Leon Logothetis
MEMOIR: A personal tale of travel and adventure in the real world.
Sit Crooked and Speak Straight, by Stephane J. McGrane
BUSINESS: A primer for anyone wanting to conduct buisiness susccessfully in the Arabian Penninsula.
The High-tech Gooseneck Putter, by Samuel DiMatteo & Kristin Johnson
CHILDREN: Meet Sami DeMani, a Canada gander with a legendary golf game. He's on track to win the prestigious Waterfowl Tour — and put his nemesis, the ruthless Pete Swan Lake, in his place once and for all.
Eradonis: Legend of the Black Rose, by Narisha Rajnandan
FANTASY: First in a series of books featuring sorcery and magic spells.
My Life With an Unsung Hero, by Vesta Sithole
BIOGRAPHY: The post-humus biography of the Reverend Ndabaningi Sithole, a hero of the Zimbabwean struggle for independence.
The Genesis One Code, by Daniel Friedmann
SCIENCE, RELIGION: Calculations demonstrate a clear alignment between the times of key events described in the creation narrative in the Book of Genesis with those derived from scientific theory and observation.
He will guide you, by Dr. John Diomede
RELIGION: A guide for Christians to your relationship with the Holy Spirit.
Flying Cowboys and Confetti Rain: Dreams of a PBR Bull, by Debbie Felkins Tamez
CHILDREN: An endearing story of a bull and a racoon and their adventures on the road to fame.