Hi. My name is David Leonhardt, and this is The Happy Guy Marketing. Our talented marketing team is ready to help you promote your small business through multilingual search engine optimization (SEO). We'll put together a plan that works for you.
You have a global website. We have a global network, based in Canada but located around the world. We put together the right team for your project.
Send us
this form, and we'll give you a free quote.
We have in the past been successful with:
English SEO
French SEO
Spanish SEO
German SEO
We'll pull together the team required to succeed in whatever languages you need, as long as the base language is English.
Get your free quote for multilingual SEO. Fill in the yellow form on this page.
Five critical aspects of SEO that are the same in any language
Website speed.
Mobile-friendly.
Well-structured pages.
Accessibility of your pages.
Language or geography meta tags.
Five critical aspects of SEO that are language-specific
Quality content on your pages.
Social media sharing of your pages.
Images with text, for better sharing.
Articles and guest blogging on other websites.
The websites and blogs that link to your pages in each language.
Five reasons you should do multilingual SEO
It's the best way to expand your market.
SEO is still one of the most cost-effective forms of marketing in any language.
In most niches, people search Google in their own language to find what they need.
If you don't get the search engine traffic, your competition will…in Spanish…and French…and German.
Search traffic are already partially qualified leads, so your pages have to deliver in their language.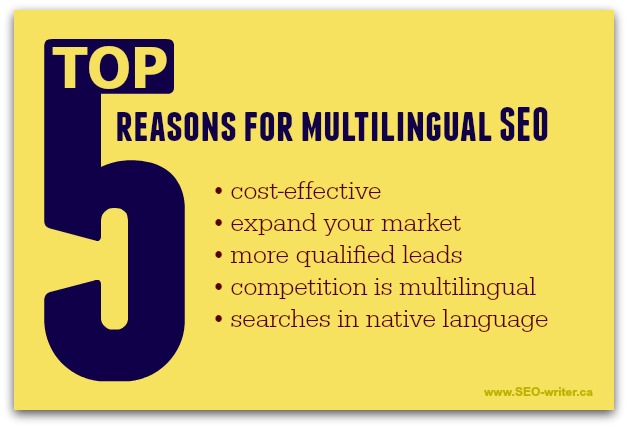 Five reasons to hire a Canadian SEO service
You can pay for your SEO campaign in Canadian dollars.
As Canadians, we are already bilingual, English and French.
We understand both Canadian business and the global Internet environment.
We want to help fellow Canadians like you succeed on the Internet.
We have Canadian writers and promoters. But we also have a global team that can work in many languages.
Five reasons to hire us for your SEO
We've been around a long time. We've been doing SEO as long as "SEO" has been a thing.
We know what it takes to rank in multiple languages.
We use technical people to do the technical work.
We have a global network, and we put together the best team members for each project.
We understand promotion, which is also critical for search engine rankings.
We work exclusively with small businesses who don't need an enterprise solution.
For quality multilingual SEO, fill in
this form to get a free quote.
Five technical SEO aspects you must get right
Technical SEO is about making sure your website is set up for success. It's like suiting up for the big game, before you ever get out on the field. This is the same in Spanish, French or English. It's the same in Hindi, Mandarin and Farsi.
The speed of your website must be fast.
Keywords must be clear in all the right places.
Your pages must be accessible to the search engines.
People must be able to easily read your website on mobile.
Internal linking must direct the search engines to your most important pages.
Five competitive SEO aspects you must get right
Competitive SEO is about outranking the competition. You can't outrank them if you're not in the game, but it takes a lot more than just suiting up to win. These aspects tend to differ from one language to another.
You need the best content in your niche in each language.
Good reviews of your business in each language you want to rank for.
You need to get mentioned most in social media, ideally by people in each language.
you need to get mentioned as much as possible and linked to in blogs and media in each language.
You need to provide content to publish elsewhere, such as guest posts, syndication, etc. in each language.
Five things to tell your SEO consultant
Tell your SEO consultant about your budget.
Tell your SEO consultant who your ideal customer is.
Tell your SEO consultant about your image and your branding.
Tell your SEO consultant which languages are important for you.
Tell your SEO consultant what products or services you want most to promote. This might be different in each language.
Five tips to work with an SEO consultant
Make sure to pay on time.
SEO takes time. Be patient.
Provide input when a content creator needs it.
Approve a plan of action, but be flexible. Sometimes the SEO landscape changes fast, and sometimes your SEO consultant will see a great unanticipated opportunity for you.
Provide as much original research (proprietary data, case studies, first-hand examples, etc.) as possible. This "collateral" forms the basis for an authoritative website that search engines like to showcase.
To get started on your multilingual SEO ranking, fill in the form on this pagefor a free quote now.
Lack of expertise is the most common reason people like you ask us to help with their SEO campaign. We assemble a nimble team, sometimes from around the world, based on your needs. Please fill in and send us
this form. We'll give you a free quote.
Looking for a different marketing service?