Our team of professional writers and editors can write your book, article blog post or report in plain English. Your readers will "get" your message. Your audience will act on your message. When you improve your readability, your documents will be more effective. Our plain language editors can help
A plain language editor bridges the difference between "can" and "will". Even if somebody "can" read your message, that does not mean they "will." Studies show that even doctors and lawyers prefer to read below the grade 8 reading level. If you want to reach your audience, if you want to have maximum impact, you must use plain language.
Hire a plain language editor
Fill in the yellow form on this page with your details for a free quote.
Here are four plain language services for you:
plain language edit
plain language readability review
plain language re-write of your text
plain language writing from scratch
For a free quote, send your details in the form on this page.

Alan – Karma Kisses Tea House

We would like to say we think you did a wonderful job editing our new website. The content flows really well and reads a lot smoother and sounds more professional now.

5 stars – 1 reviews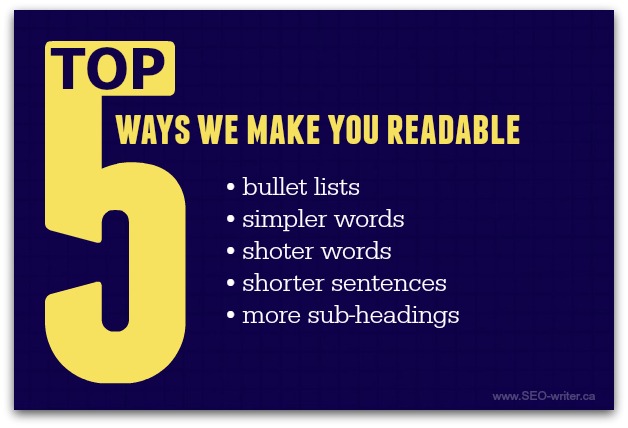 Five ways we make your document easier to read
Bullet lists
Simpler words
Shorter words
Shorter sentences
More sub-headings
Five more ways we make your document even easier to read
Shorter paragraphs
More common words
Simpler sentence structure
Replace adverbs with verbs
Replace adjectives with nouns
Five reasons to you need a plain language writer or editor
Rushed readers often miss details.
"Scanners" gloss over complex text.
Readers are more likely to take action.
Busy readers have a short attention span.
Many readers will stop reading part-way through
Five reasons to hire our plain language editors
Our plain language editors treat you like royalty.
Our plain language editors are skilled – they know their English.
We care about good communications. We'll put our heart into your document.
Our plain language editors are merciless – they'll give your text a complete overhaul.
We are called The Happy Guy Marketing. Our specialty is pleasing people like you.
If your documents need help, fill in the form on this page to get a free quote now.
Five reasons to hire a writing agency
All our editors and writers are proven and safe.
You get a pro to help you. You are not an isolated writer.
We are a full team. We have a choice of editors and writers for you.
We let the writer or editor do her job…but we are ready to step in if needed.
If your editor or writer gets sick or has a family emergency, we can send back-up.
Five reasons to hire a Canadian writing agency
We know Canadian English.
We also know US and UK English.
We are typically nice and polite Canadians.
Like you, we are hard-working and conscientious.
We have Canadian editors and writers…but we also have Americans, if you need them.
Five tips to work with our plain language experts
Tell us your word count.
Review the edits that we send in "track changes".
Pay for the plain language review, edit or rewrite.
Accept whichever edits you want; reject whichever edits you don't.
Let us know about any technical terms you need preserved for legal reasons.
To find a plain language editor today, fill in the yellow form on this page.

Chris Edwards – website owner

Awesome! Thanks for the rewrite, its perfect.

5 stars – 1 reviews
Five things you should know about the cost of plain language editing and writing
We don't compete on price. We compete on quality. We charge what it takes to give you top quality.
The longer the manuscript, the more it costs to write or edit.
Editing and writing are labor intensive jobs. They cost money.
Plain language will save you more money or make you more money than it costs.
Ours team is just as good as celebrity writers, but you don't pay extra for their celebrity status.
There are cheaper writing services on the Internet. But if price is your top consideration, why even hire an editor?
We'll make you more profitable!
The top two reason people ask us to edit their documents are:
They want more people to read their materials and follow through on their call to action. They want to stop losing sales.
They want customers to understand their materials better, because misunderstandings and confusion cost them too much money.
Once we have finished with your manuscript, your writing will be better. It will be clearer. It will be easier to read. It will be a bridge to action, rather than a barrier to sales.
If you are ready for clearer, easier-to-read documents, fill in the yellow form on this page.
Looking for a different writing service?