Hi. I am David Leonhardt, and I run THGM Writing Services in rural Ontario. Our dedicated team of professional speech ghostwriters is at your service. We'll deliver the speech or presentation text you want on time and on budget.
Our pens are loaded! How can we serve you>
Our Canadian speechwriters bring a multitude of experiences and writing styles for your speech. Whatever tone you want to strike, whatever impression you want to leave, our speechwriters can deliver.
Fill in and send us the yellow form on this page for a free quote.
We have written speeches for all types of situations:
political speeches
press conferences
employee training
keynote addresses
wedding speeches
retirement speeches
awards presentations
motivational speeches
corporate presentations
graduations and commencement speeches
The most important skill a ghost writer can offer is the ability to write words that sound like they come from your mouth. If chameleons could write, they would be ideal ghost writers, changing their writing style with their clients.
Whether your audience is Canadian or global, our ghostwriters will bring your message to life. We assign the writer who best matches your needs.
Fill in and send us the yellow form on this page for a free speechwriting quote.

Aaron – Best Man

Thanks for helping to organize my thoughts and put them on paper. … Thanks again for all your help. While I had an idea for what I wanted to express, your help in getting it structured was a big help.

5 stars – 1 reviews
More people are afraid of public speaking than are afraid of dying. Fortunately, few people have to speak in public. But if you are one of those who have to speak in public, we can help.
With a carefully crafted speech, you can proceed to deliver it with confidence. Our writers make sure first to understand the purpose of your speech; Here are some possible purposes:
to inspire
to inform
to motivate
to entertain
to move to action
For quick service, fill in the form on this page for a free quote.
Five reasons to hire a speech ghostwriter
Hire a speech ghostwriter to get started.
Hire a speech ghostwriter to be ready on time.
Hire a speech ghostwriter for an outside perspective.
Hire a speech ghostwriter to sound more professional.
Hire a speech ghostwriter to move your audience to action.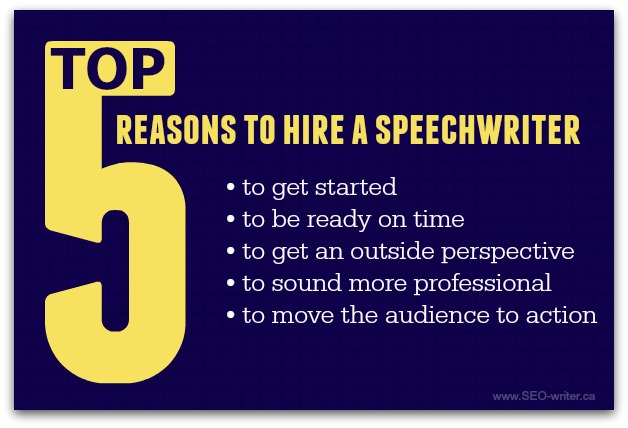 Five reasons to hire our speechwriters
All our writers have been vetted for quality writing.
All our writers have been vetted for customer service.
"The Happy Guy" Marketing is in the business of making customers happy.
Every word we write is custom work.
We are nimble. We have the flexibility to meet your needs.
To shine on the podium, fill in this form for a free quote now.

Thom Bourne – Canadian conference presenter

The conference overall exceeding even my expectations. Great energy, great value.

5 stars – 1 reviews
Five reasons to hire a ghostwriting agency for your next speech
If something isn't working, we can step in to help.
If your writer gets sidelined, another writer can jump in.
We'll make changes if something doesn't work well for you.
We vet all our writers. They do good work and have strong ethics.
You won't be on your own writing your speech. You have professional help.
Five reasons to hire a Canadian speechwriter
Canadians are nice.
We speak Canadian.
As Canadians, we are inclusive.
Canadians engage with their audiences.
If you'll be speaking in the USA or on an international stage, we write for those audiences, too.
Five tips to work with a speechwriter
If you want something tweaked, explain why.
Make sure your ghostwriter understands the goal of the speech.
The more details you give, the more the speech will sound like you.
Be friendly. All our writers are friendly, so you can work well together.
Practice the speech out loud in front of a mirror before asking for changes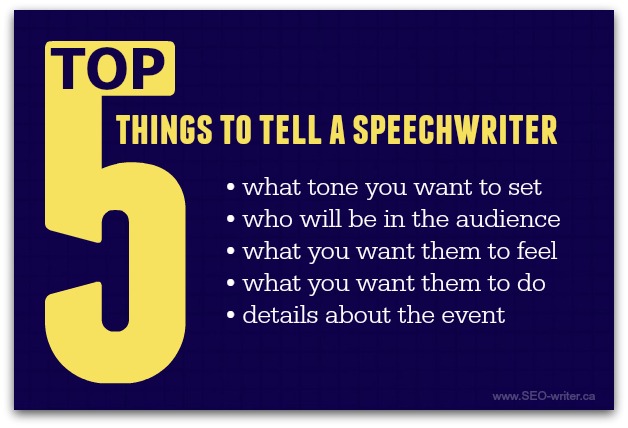 Five things to tell your ghostwriter
Tell your ghostwriter the tone you want to set.
Tell your ghostwriter who will be in the audience.
Tell your ghostwriter what you want your audience to feel.
Tell your ghostwriter what you want people to do when they leave.
Tell your ghostwriter about the occasion, the conference or the venue.
For your free quote, fill in the form on this page.

Geoff – groom from British Columbia

I am really pleased with how this speech is going and have been reviewing it with my brother. There are some very small changes I am going to make and then I will send it back to you for a final review. I'm very please with many of the subtle jokes you made.

5 stars – 1 reviews
Five ways to pay for speechwriting services
Canadian dollars.
PayPal is quick and easy.
Certified cheque or money order.
Email Interac (Canadian clients only).
US dollars, too – we accept the greenback.
Five steps to find a speech ghostwriter
The best way to find a speechwriter is to contact us. Please fill in this form.
Tell us a little about your speech, so we can assign the writer who will do the best work for you .
Let us know about any sensitive aspects of your project or your audience before we assign a writer.
Discuss your speech with the assigned ghostwriter. Make sure you are comfortable with the writer.
Send payment. Congratulations, you have found a speechwriter. You have hired a speech writer.
Three types of speech writers
Tap or click here to read about three categories of speeches and how our writers help you make them a success.

Persuasive political speech writers

Political speeches are works of persuasion. Some political speeches are geared toward electoral success. Some are geared toward winning a policy debate. All must ensure that the speaker's "political capital" rises as a result of the speech, and every one must be persuasive.

Because political speeches are generally delivered by very public personas, it is very important for our speech writers to capture the speaker's voice. Your voice. We take the time to make sure we do this right, and we work with you to master your personal speaking style.

Corporate speech writers

Corporate speeches are generally speeches of leadership. Whether addressing employees or stakeholders, success is defined by the quality of leadership the speech inspires in the audience. This holds true equally for visionary speeches as for policy announcements as for product launches. Here are a few of the occasions you might want our speech writers to help you with:

Product launches
News conferences
Employee gatherings
Policy announcements
Store or plant openings
Annual meetings or shareholder gatherings
Conference, convention or trade show speeches

Our speechwriters can tailor your corporate speech for any occasion or to address any audience, to put your personal and corporate reputation in the very best light.

Custom speech writers for weddings, award celebrations and personal occasions

Personal speeches are all about personality…not just the speaker's, but the person who is being celebrated. For example, a best man speech at a wedding has to reflect not only the personality of the best man, but also the character and characteristics of the groom, the bride and perhaps their families, as well. A hockey luncheon speech has to reflect both the coach and the personality of the team. Here are a few of the "personal" occasions you might want our speech writers to help you with:

Award dinners
Retirement speeches
Birthdays and anniversaries
Weddings, such as a best man speech
Conferences (yes, sometimes people speak at conferences for non-professional reasons)
Tap or click to read about some of our Canadian speechwriting projects.

Coming soon…
Get your project started today!
The top reason people come to us is to get started. People don't have time to write their speeches and presentations. You can start now – just fill in the form on this page. We'll give you a free quote and, if you wish to proceed, assign a ghostwriter.
Looking for a specific ghostwriting service?
Find speech ghostwriters for hire
We make finding a speech ghostwriter easy. If you want a skilled ghost writer for your speech or presentation, fill in this form for a free quote. The more details you include, the better we can serve you.