Hi. My name is David Leonhardt, and I run THGM Writing Services. Our dedicated team of professional writers wants to write your report. We'll deliver the document as a manuscript or laid out as a PDF, depending on your needs.
We have Canadian and American writers on our team, as well as French and Spanish translators. We assign the business writer who best matches your needs.
Fill in the the yellow form on this page for a free quote.
Whether your target readers are here in Canada, in the United States or around the world, our ghostwriters will bring your success, your data and your message to life in plain language that your audience can understand. Here are some of the reports we can write for you:
case studies
white papers
annual reports
progress reports
Get a free quote to write your report now. Fill in the form on this page.
Five reasons you should hire a report writer
Hire a report writer to get it done on time.
Hire a report writer for an outside perspective.
Hire a report writer when you need it formatted.
Hire a report writer for a professional presentation.
Hire a report writer when you have too much other work to do.
Five reasons to hire our report writers
Our report writers have skill – they write well, in plain English.
We deliver custom work, based on your needs. Yes, we listen.
Our report writers treat you like a team member, to deliver your report .
We take your jumbled information and make it make sense to the readers.
Read our name: The Happy Guy Marketing. We make clients like you happy.
For a top quality report, fill in the yellow form on this page to get a free quote now.
Five reasons to hire a Canadian business writing agency to write your report
You can pay for your report in Canadian dollars.
Context is everything. We understand Canadian public and private sectors.
We have Canadian writers…but we also have American writers. Take your pick.
As Canadians, we want Canadian companies and consultants to do well. Let us help.
We write Canadian English for Canadian audiences, but we can also write US and UK English if you prefer.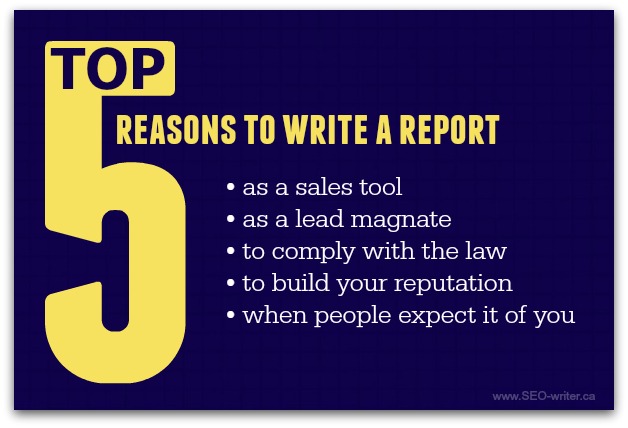 Five reasons to write a report
For marketing, to attract new leads.
To build your company's reputation.
As a sales tool, to convert new prospects.
You have to (regulatory requirement).
You sort of have to (people expect it of you).
Five tips to work with a report writer
Pick a focus, a single message, if possible.
Provide your information in sections. If there are multiple focuses, let's keep each one in a separate section.
Provide data in tables.
Be very clear about your goals, so we can write your report for maximum effect.
If we'll be doing the formatting, provide any images you want included.
To get started on your report, fill in this free-quote form now.
Lack of time is the top reason people ask us to write their reports. We can save you time and get your report started right away. Please fill in the form on this page. We'll give you a free quote and start as soon as you pass us you're ready.
Looking for a different writing service?