Hi. My name is David Leonhardt, and I run THGM Writing Services here in rural Ontario, Canada. Our dedicated team of professional ghostwriters in Canada and the United States is at your service. We'll deliver the manuscript you want on time and on budget.
This is where you'll find the best ghost writers for hire. We have Canadian ghostwriters and American ghostwriters on our team, as well as French and Spanish translators. They offer you a multitude of writing styles, from satire to academic to biographical to fiction to busines to journalistic to motivational.
We can write novels, manuals, screenplays, speeches, articles, special reports or any other kind of manuscript you would find helpful. This makes us responsive and creative enough to adapt our skills to your unique voice. We write the words that express your individual viewpoint.
Serving up the best ghostwriters Canada offers
The most important skill a ghost writer can offer is the ability to write words that sound like they come from your mouth. If chameleons could write, they would be ideal ghost writers, changing their writing style with their clients.
We assign the writer who best matches your needs.
Fill in and send us the yellow form on this page for a free quote.
Whether your audience is in Canada, in the United States or around the world, our professional ghostwriters will bring your message to life. We can write your:
book
article
speech
blog post
screenplay
press release
To save you time, fill in the form on this page for a free quote now.

Pastor Jack from Toronto


Wow David, you nailed it again. You have a way with words and simply bringing across ideas. I love it, love it, love it.
If people get this concept…it will make a big difference in their lives. What we are working on will really help people if it is well communicated.


Ranae Barratt – website owner


THANK YOU DAVID !!! Exactly how I wanted it to flow…. And yes, I will change a few little words here and there, only to personalize it a little more! Thank you very much for your services…. 2nd to None! I Will gladly recommend you to anyone looking for SEO and other related services.

5 stars – 2 reviews
Five reasons people hire ghostwriters
I need a ghostwriter for my book.
Hire a ghostwriter to get organized.
Hire a ghostwriter to get started now.
Hire a ghostwriter to publish sooner.
Hire a ghostwriter for a better quality manuscript.
Hire a ghostwriter to make your book or article more successful.
Hire a ghostwriter for your book, speech, blog post or article. You can't beat better quality in less time.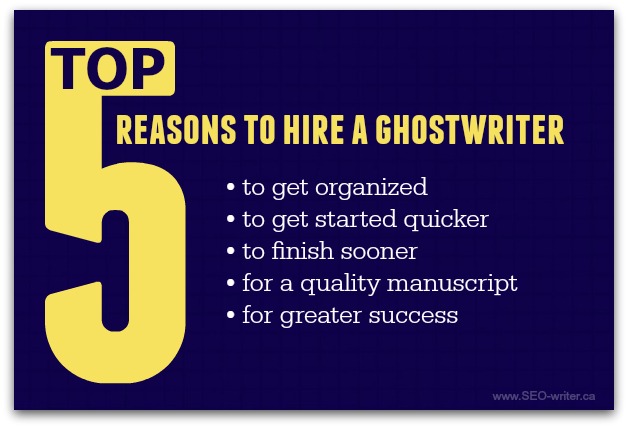 Five reasons to hire our ghostwriters
All our ghostwriters have been vetted for quality writing.
All our ghostwriters have been vetted for great customer service.
We are called "The Happy Guy" Marketing for a reason; we make customers happy.
All our writing is custom work.
We are flexible to meet your needs.
To make your manuscript shine, fill in this form for a free quote now.

BILL – screenplay developer


Hey Kristen, What more can I say…You hit it on the nose of what I was thinking. Thank you. And the 36 pages…All I can say is you write what I am thinking and I'm still blown away. I'm so glad I went with you and THGM. Thank you for fulfilling my vision on my screenplay. You see what I want to be seen to others. Thanks.


Denise Reccia – self-help author


I am very very happy with the outcome! Debra was fabulous to work with and an amazing person! I highly recommend her for future projects. She will definitely be my choice again.

5 stars – 2 reviews
Five reasons to hire a ghostwriting agency
You're not on your own writing your manuscript. You have professional help from complete ghostwriter services.
If something bad happens to your writer, another writer can jump in.
Our writers are vetted. They can't change the rules part-way-through your project.
Standard contracts protect you.
If something isn't working, we can step in to help.
Five reasons to hire a Canadian ghostwriter
Canadians are nice.
We can spell in both US and UK English (and in Canadian English, of course).
We are hard-working and conscientious.
We know Canada…but we also know the USA and most of the world.
Actually, geography doesn't usually matter. We assign the writer who will excel with your project, no matter where they plug in their laptop.
Five tips to work with a professional ghostwriter
Give as much detail as possible. Even the best ghostwriter can work only with what you provide.
Give feedback as quickly as possible. Keep your writer "in flow" for the best possible manuscript.
Give feedback in "track changes", so they are easy for the writer to see.
Pay on time to keep the work flowing.
Be friendly. All our ghostwriters are friendly, so you can work well together.
Five things to tell your ghostwriter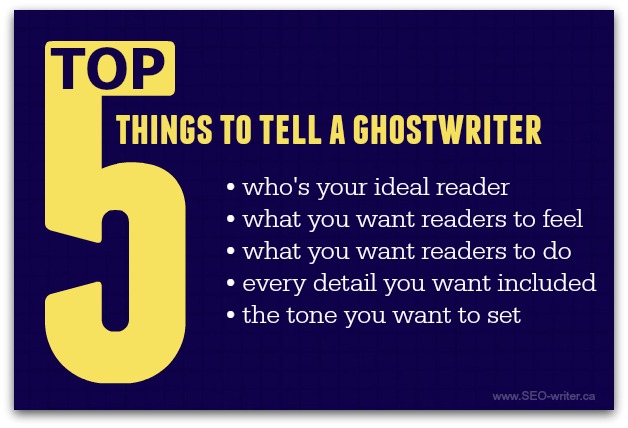 Tell your ghostwriter who your audience is – not just the broad audience, but your ideal reader.
Tell your ghostwriter what you want readers or viewers to feel while reading or viewing.
Tell your ghostwriter what action you want readers or viewers to take when it's over.
Tell your ghostwriter every detail that you want included.
Tell your ghostwriter the tone you want to set.
For the best ghostwriter service, fill in the form on this page for a free quote now.

Maya – first-time novelist


Oh wow, I am crying. It is beautiful. And I am not just saying that because it is my book and all. It flows smoothly. I am pleased. I am confident I will land a contract with that. Now I feel confident. I didn't feel that confidence before with my manuscript. Being a writer, I know that my manuscript didn't have the smoothness I was aiming for. Thanks so much.


Aaron – Best Man from California


Thanks for helping to organize my thoughts and put them on paper. Thanks again for all your help. While I had an idea for what I wanted to express, your help in getting it structured was a big help.

5 stars – 2 reviews
Five things you should know about ghostwriter contracts
Our ghostwriter contracts name you as the copyright owner. That's the main reason we use them.
A ghostwriter contract sets the length of the manuscript.
A ghostwriter contract sets the price of the writing project.
A ghostwriter contract sets the payment schedule.
A ghostwriter contract sets any special requirements you might have.
Five ways to pay for ghostwriting services
Our ghostwrters are available to hire at a reasonable cot. Here are five ways to pay for their services.
Pay up-front. This is typically how clients pay for small projects that cost under $3,000.
Pay in three installments. This is typically how clients pay for large projects, such as book manuscripts or movie screenplays.
Pay in multiple installments. This is how cash-strapped clients pay for large projects. We don't turn anybody away based on cash flow, but we do make sure the work flow follows the cash flow.
Pay by certified cheque, money order or PayPal.
For Canadian clients only: pay by email Interac.
Five steps to find a ghostwriter
The best way to find a ghostwriter is to fill in this form.
Summarize your project, so we can assign the writer able to do the best work for you .
Let us know about any sensitive aspects of your project before we assign a writer.
Discuss the project with the assigned ghostwriter. You need to be comfortable with the writing she will do and with how the two of you will work together.
Sign the contract. Congratulations, you have found a ghostwriter.
Tap or click to read about some of our Canadian ghostwriting projects.

Here are some recent projects. We don't use real names for ghostwriting to protect client confidentiality. In fact, our services include absolute anonymity whenever requested; when your book is written and the bills are paid, you are the author and you own all rights. All rights. Period.

V. and some colleagues are experienced investors, and they want to help others start up investment clubs. What better way than by writing a book, a how-to manual on starting an investment club? Books written by committee rarely shine, but books written by our financial writer do. So V. came to us to fi8nd a ghostwriter to put it together for them.
S. has written the novel of his life, an epic that draws on his observations. He wants it to entertain, educate and philosophize all at once. He wondered how to find a ghostwriter for a book, so he came to us. At well over 100,000 words, it is indeed a work of epic proportions that has evolved even as it was being written. Dedication and quality writing have helped us deliver his "baby".
B. wants a book to sell at speaking engagements and through other venues. He has honed his message and he knows he has a receptive audience, but writing is not his forte. No problem, that's what our ghostwriting services are there for. We have an energetic writer who knows how to convey his sense of excitement and motivation working on his book right now.
P. has a story idea. It is a Christian story that addresses some of the paradoxes of our time…increasing understanding of science on the one hand, steadfast faith in ancient doctrine on the other hand. His thesis is that the two can go hand in hand and he came to us for help putting forward his thoughts. "I need a ghostwriter for my book!" he said. "How can we help?" we replied.
L. needs a series of articles written. But she is just way too busy to write them herself. The articles would be informational, to help potential clients feel comfortable hiring her company on consulting projects. Because the articles would appear on her website, she also wants them to be SEO friendly. She looked for a good SEO writer and settled on The Happy Guy Marketing.
W. already wrote his novel, and he's been editing for two years. It's time to get a third party to look it over. This is actually a small project, and we'll have W. ready to publish in no time. He wanted to find someone in Canada to give it a substantial edit.
Where can I find a ghostwriter today?
The top reason people come to us is to get started. People don't have time to write their book or speech or screenplay or article, so they hire a ghost writer service. You can start now – just fill in the yellow form on this page. We'll give you a free quote and, if you wish to proceed, assign one of our professional ghostwriters.
Ghostwriter wanted: looking for a ghostwriter for a book or other item? Find the specific ghostwriting service here!
Just a few sample books we've written or edited
Need a ghostwriter for your book? These people did, too.


ASIM: Servant of Two Masters, by D.W. Smith
HISTORICAL FICTION: In 1453 Turkey, Mehmed the Conqueror has just defeated the Byzantine Empire and a new era called the Ottoman Empire is ushered in.
Breast Cancer; The Sun Will Rise, by Pamela S. Barron
SELF HELP: Breast cancer survivor Pamela Barron describes life with metastatic breast cancer and continuous chemo treatment for seven years .
War of the Staffs, by Kathryn Tedrick and H.P. Stephenson
FANTASY: A fresh new series for all those who love dragons, wizards, elves, dwarves, and mayhem.
Amazing Adventures of a Nobody, by Leon Logothetis
MEMOIR: A personal tale of travel and adventure in the real world.
Sit Crooked and Speak Straight, by Stephane J. McGrane
BUSINESS: A primer for anyone wanting to conduct buisiness susccessfully in the Arabian Penninsula.
The High-tech Gooseneck Putter, by Samuel DiMatteo & Kristin Johnson
CHILDREN: Meet Sami DeMani, a Canada gander with a legendary golf game. He's on track to win the prestigious Waterfowl Tour — and put his nemesis, the ruthless Pete Swan Lake, in his place once and for all.
Eradonis: Legend of the Black Rose, by Narisha Rajnandan
FANTASY: First in a series of books featuring sorcery and magic spells.
My Life With an Unsung Hero, by Vesta Sithole
BIOGRAPHY: The post-humus biography of the Reverend Ndabaningi Sithole, a hero of the Zimbabwean struggle for independence.
The Genesis One Code, by Daniel Friedmann
SCIENCE, RELIGION: Calculations demonstrate a clear alignment between the times of key events described in the creation narrative in the Book of Genesis with those derived from scientific theory and observation.
He will guide you, by Dr. John Diomede
RELIGION: A guide for Christians to your relationship with the Holy Spirit.
Flying Cowboys and Confetti Rain: Dreams of a PBR Bull, by Debbie Felkins Tamez
CHILDREN: An endearing story of a bull and a racoon and their adventures on the road to fame.
Find ghostwriters in Canada for hire
Do you need a ghostwriter? We make finding a ghostwriter easy. If you are looking for quality professional ghost writer services at a reasonable price for your book, report, screenplay, speech, marketing materials, website copy or other project, fill in this form for a free quote. The more details you provide us, the better we can serve you.