Blog commenting can be an effective marketing strategy. But far too many people just leave graffiti all over other people's blogs.
Blog commenting is an undervalued means of marketing by most businesses. No wonder, when you see how many people make such a mess of it.
In fact, most comments I get on my blogs are at worst spam, at best virtual graffiti. Here are a few examples.
Don't leave a trail of virtual graffiti
"My brother suggested I may like this website. He was once totally right. This publish truly made my day. You cann't believe simply how a lot time I had spent for this information! Thank you!"
"Everything is very open with a precise explanation of the issues. It was really informative. Your site is useful. Thank you for sharing!"
"What's up to every one, for the reason that I am truly keen of reading this website's post to be updated regularly. It consists of good data."
"This web site really has all of the information and facts I needed concerning this subject and didn't know who to ask."
And let's not forget the ever popular "Nice post".
Those are just some of the short ones. There are longer ones, and there are many that I would not reproduce here, due to the topics or words that I don't want to appear on this page. They are all horrid.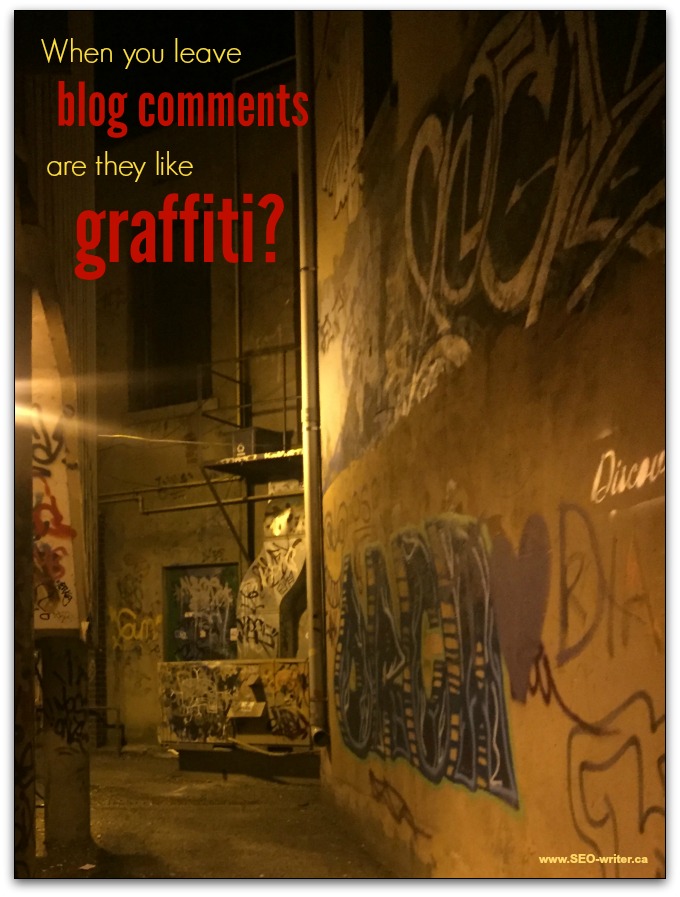 You can do better.
Let's look at why and how blog commenting can be useful to your business. Then we'll share some handy tips for effective blog commenting.
Why blog commenting is effective marketing
Everything you say online or offline is marketing. In that respect, blog commenting is no different than any other medium of communication.
Why blog commenting can be effective is that it is targeted. You can comment on blogs that relate directly to your business.
You can comment on posts that relate directly to your business.
Or you can comment on blogs and posts that would be of interest to your target audience…even if they don't relate directly to your business.
Any chance to engage your audience is a chance to draw them into your sales funnel.
Any chance to impress your audience is a branding success.
Blog readers often read the comments. In fact, some read the comments more than the post.
But readers are not the only audience. When you comment frequently on a blog, or even just occasionally, you build a relationship with the blogger.
She recognizes your name.
She recognizes your avatar.
She won't recall each of your comments, but she might recall one or two…and she will probably have an image of who you are (your brand!).
Being recognized positively by bloggers can open up all sorts of doors. The blogger might ask you to guest post. Or, you could offer to guest post. The blogger might ask your opinion for an article. Or the blogger might mention your company.
Not long ago, someone on Quora recommended asking me for help with a writing project. That was a positive result of having voted up many of her answers, and occasionally commenting on some of them.
How to write effective blog comments
Although there is a certain "street cred" glamor that comes with being a real graffiti artist, nobody likes virtual graffiti on blog posts.
Your blog comments should be:
Engaging
Thoughtful
Provocative
Constructive
First, make sure you've read the whole post, or at least the whole section that relates to the comment you want to leave. Let me tell you how silly it looks to say that the blogger should have considered something that he had, indeed, considered two paragraphs later.
Second, take a stand. Do you agree or disagree with the position the blogger takes. Be upfront about this.
Third, if you disagree, state why. Be highly respectful, especially as relates to taste and opinions, of which there will be many. Make a reasoned argument, without disrespecting the blogger or the readers who agree with him.
Fourth, if you agree, state why. If your comment is about how you agree, then make sure to add something to the conversation. Don't just nod your head.
For instance, add a reason you agree that the blogger didn't mention.
Or add a dimension that the blogger didn't include. Not only do you agree, for instance, that Stairway to Heaven is an epic rock anthem, but that Bohemian Rhapsody is, too.
Or add some data to back up the blogger's claims.
Or, even better, add an experience you or a client of yours had. This is a great way to talk about your business without turning people off by selling.
Whatever you do, don't try flattering the blogger about the design of his blog or about how well he writes…unless the blog post is actually about his blog design or his writing style.
Blog commenting is an undervalued means of marketing by most businesses. If you do it right, you can promote your website and earn valuable traffic.
Stick to the topic of the blog, always be respectful of others and their views, and leave only substantial comments that are worth reading. If you leave shallow, off-topic comments. All you're doing is spraying virtual graffiti around.
* Bonus points if you can identify the Ontario city where the photo above was taken.