It's almost Canada Day. What better time to discover the amazing writers across the country?
This is part two of our visit with Canadian authors. You can read part one here.
They have very little in common. However, they are all Canadian. They are all accomplished writers. And they all are generous to other Canadian writers on Twitter. But Canadian writers come in all sorts of styles and genres, and that is true with these three writers.
In the interests of getting to know more good-hearted writers in time for Canada Day, let's get straight to meeting the authors.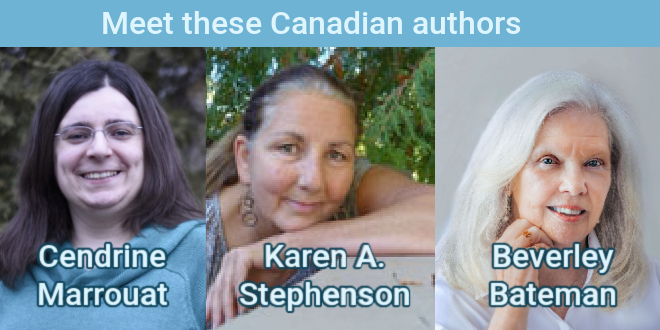 Winnipeg author Cendrine Marrouat
French-born Cendrine Marrouat is the most prolific author we're visiting in our approach to Canada Day. Her over 32 books, written in the span of 16 years, touch on:
poetry
humour
theatre
photography
social media
I have known Cendrine for many years, mostly for her photography. Like so many artists, she works across many media, as the subjects of her books reveal.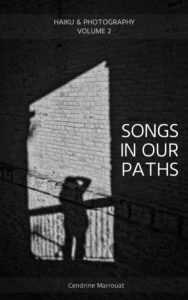 Even within the field of photography, she has worked with mixed media of sorts. Working with both digital and film images, she created her own type of digital image. The "Reminigram" is a digital style that she created to honor and pay homage to the early days of photography.
As one might guess by her past record, she always has works in progress. Among them is a collection of Haiku inspired by her favourite authors, Kahlil Gibran and Alphonse de Lamartine. These follow hot on the heals of Songs in Our Paths: Haiku & Photography (Volume 2), her new mixed media collection of poetry and photography.
Cendrine's first foray into writing was through poetry. In 2005, she wrote her first poem, and from there she began publishing in the proverbial zero to sixty in five-point-two.
Had she remained in France, her career might have been quite different. It seems Canada is a great place for us artistic types:
"Had I stayed in France, I probably would have pursued a different career. Indie artists are not taken very seriously there. Overall, Canadians are less judgmental and more accepting of 'alternative' paths. It is much more enjoyable for artists to practice here."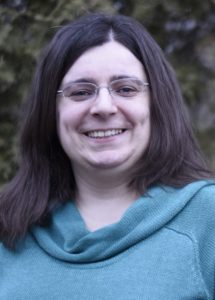 Cendrine sees her work writing as "positive" and "inspirational".
"Very few people know of my healthy relationship with death and loss. I feel pain like everybody else, of course, but the way I grieve is positive and liberating. That is the reason why all my writing seeks to be positive and inspirational. I do not shy away from difficult topics."
Could those topics includes past lives? She suspects that she was a cat in a past life, because "all the cats I have encountered have treated me like one of their own."
She also believes she was born in the wrong era. Her childhood twin lived in the 19th century. She found a photo of her online. Unfortunately, the "twin" died very young, so Cendrine will never know what she looked like as an adult.
In her present life, she is co-founder of Auroras & Blossoms This website is dedicated to positive, uplifting and inspirational art, both written and visual. It runs regular submission calls for digital anthologies, a monthly show, a year-long artistic movement and an artist collective. The content is fully family-friendly.
Cendrine and co-founder David Ellis have also created several artistic genres that borrow from concepts like the Haiku and photography:
Sixku
Kindku
Pareiku
Flashku
Toronto-area writer Karen A. Stephenson, S.S.W., Master Herbalist
Karen leads a double life.
Indeed, she leads two double lives. Like most writers, she also has a day job. But as a writer, she also leads a double life as both writer on edible wild plants – yes, weeds – and as a ghostwriter for others.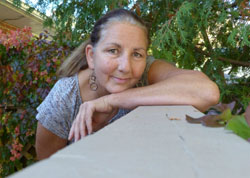 It all began at age nine, with her first pen pal. By the time she was a teenager, she counted over 100 pen pals. She was fascinated to learn about the world through so many sets of eyes.
"I was able to travel and stay with them and many of them came here to stay! It was a most fascinating time of my life. To this day, I maintain contact with about 40 of them. And sometimes, we still use stationery and pen!"
She turned pro 30 years ago.
"It started back in the day when writers had to send out query letters to potential publishers then waited five to eight weeks to find out if the idea was accepted. In the beginning I found a niche market, thanks to being a social service worker. One of the first query letters I sent out that was accepted was about husband abuse, and I landed a three-page article in the Toronto Sun on that topic."
That article led to many more. Karen was contacted by other publications to write articles for them on similar topics. The most memorable phone call she received was from then-Senator Anne C Cools. She asked Karen to help her organize some conferences. That opened doors wide for Karen to write more articles about abuse issues for more publications.
Few people know what being a feature writer on abuse issues led to next. Karen was recruited to become managing editor of Post 420 Medical Marijuana Magazine – yes, weed.
"I accepted the position and my children bragged to no end about my new position for Post 420 Medical Marijuana Magazine. Even though I never smoked marijuana, I ended up being the coolest mom to teenage kids at their high school. This position was more than just enjoyable. It brought me many incredible opportunities, including interviewing Jesse Ventura not once, but twice."
Emotionally drained from writing about abuse and emotionally high on writing about weed, she decided to follow another passion: wild food. Before long, she was writing articles on wild food for a few publications and started her edible wild food website, which I have often gone to for information (I love eating things that grow in our yards).
"I am obsessed with writing and with weeds – edible weeds! I'm also obsessed with wild berries, edible parts of trees, etc. This 'high octane fuel' gives me an immune system that is running at top speed and allows me to experience tastes most people can't even imagine!"
Karen published her first book in 2020: Foraging Cookbook. I have used this recipe book, and highly recommend it. Did you know that you can bake the needles from your pine tree into cookies?
Her follow-up book will get more serious. What we eat or don't eat can determine what nutrient-deficient health ailments we will get later in life. That's the problem her next book aims to solve.
"The book I am currently working on encompasses many angles as to why we as a society are not eating as healthy as we should, despite all the information out there. I do not have a working title, but the focus of my next book is on nutrition!"
Karen doesn't think that being Canadian has affected how she writes. But she does see it as being a competitive advantage when selling her writing. American publishers know that whatever they offer, it looks better to a Canadian writer, due to the favourable exchange rate.
When not ghostwriting for THGM clients or for others, writing for her website, or developing new recipes, you'll find her creating new videos for YouTube and Facebook or simply meandering the forests listening to nature!
And sometimes, "when time permits", she pulls out her sketch pad or paints. But, as a family person who tries to spend every moment possible with her adult children, their spouses and her grandson, I can't imagine when time would permit sketching or painting.
Medicine Hat, Alberta, author Beverley Bateman
"Romance writer" might be too limiting a term for Beverley Bateman, although she is a member of Romance Writers of America. She says she writes "contemporary romantic suspense", as well as "contemporary western romantic suspense" and "horror romantic suspense". Despite the nuances among these sub-genres, the short synopses of her books keep us more in suspense than in love.
For instance, her most recent novel is Death Southern Style. A synopsis reads:
A woman with paranormal skills is killed in New Orleans because of secrets long buried. Julie Ann, her daughter, returns home to find her mother's killer and the reason for her death. She moves into her mother's house and a small black dog appears in the garden and moves in with the daughter. Marie Laveau, the dog, notifies Julie Ann whenever danger is near, which is good because now someone wants to kill the daughter. The local police are of little help except for one detective. Together they search for the killer, the motive, and fight to stay alive.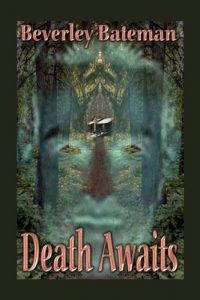 And her upcoming fifth novel, now at the editing stage, sounds just as exciting. A synopsis of Death Awaits reads:
Susan T. Brown, a single mother and dogwalker, witnesses a murder of one of her clients. Now the hired killer is after her. Mitch Pellagrino, the brother of her ex-boyfriend, is a detective also after the killer. He never liked Susan and she didn't anything to do with him. Now Susan and her young son are on the run and the only person who can help them is Mitch. The book tells the story of their developing relationship as they try to find the killer and also don't get themselves killed.
To be fair, Beverley did set out to be a romance writer, but "I found I had to kill someone, so I switched genres to romantic suspense."
Writing began early for Beverley, although it remained dormant for many years. As a young girl in Calgary, she used to make up stories with her dolls at an early age.
In school, she wrote locked room stories. That experience served her well, as she crafts one suspense book after another.
Over the years, she kept a folder of potential stories and plots she would come up with, read about or notice.
In 2013, when her family had grown older, she found more time to write. She dug into her folder of ideas and wrote and published her first book from Kelowna, BC.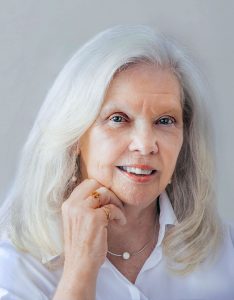 Her family, now in Medicine Hat, consists of her husband and her 11-year-old rescue Bichon-poodle named Benji. And does she ever love dogs!
"I don't think I've mentioned this before anywhere, but people may have noticed it. I'm an animal person and love my dogs. We recently adopted an eleven-year-old rescue dog. I have a dog in all my books. Small dogs, big dogs, dogs who are main characters, and dogs who are just there. A dog always shows up when I'm writing and gets included in the story."
Being Canadian hasn't influenced Beverley's writing in any tangible way, so far, although she is now toying with setting a story somewhere in Alberta or British Columbia.
As with so many writers, words are not Beverley's only art. She also dabbles in glass fusion and watercolour painting.